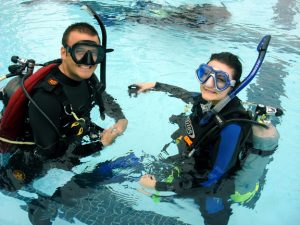 Scuba Refresher
Got a tropical trip coming up but feeling a little rusty? Spend a few hours with one of our dive professionals who will inspect your gear for you, reacquaint you with gear assembly and care,  and go over the the most important scuba sills such as mask clearing, buoyancy control, and emergency procedures. The course is perfect for the vacationing once-a-year diver. Many divers take this class each year before their annual dive trip.  Pool refreshers join the first part of an open water course, or stay for the whole class. It's up to you! All the gear you need is provided, however it is strongly recommended each diver have own their own mask and fins. We have these available for sale if needed. 
Option 1: Pool Refresher Group Class Dates
If all you need is a few hours in a pool practicing the basics, then this is for you.
Generally classes are 10am to 4pm. This may vary slightly.
Cost: $169
2021 Available Dates
Saturday February 27th
Saturday March 13th
Saturday March 27th
Saturday April 3rd
Saturday April 10th
Saturday April 24th
Saturday May 1st
Saturday May 8th
Saturday May 15th
Saturday May 29th
Saturday June 5th
Enroll in a Refresher Course Here for $169
Are you too advanced for a pool refresher? Divers may skip the pool refresher and sign up directly for ocean/lake refresher dives if they think they are ready. This is ideal for people who have a lot of and recent warm water diving experience but would like to try some temperate California diving. See the cold water conversion/guided dives by clicking here.
Enroll in PADI ReActivate here
---
Option 2: A full PADI Open Water Course audit.
Have only a few dives and haven't dived for years? You may want to consider an audit of an entire PADI Open Water Course just as if you are a student. Ideal for certified divers who have taken several years off of diving or had very few dives to begin with. You will join an Open Water Course and attend each pool and open water dive as if you were a new student including completing the PADI eLearning online academics program.
See our PADI Open Water Course page for dates and sign up for the class just as if you were a new student.
Not sure where you fit in the refresher paradigm? Call us at (916) 772-3483 and we can help you determine where you fit.
All refresher students: Please download and read the PADI Medical Waiver to determine if you need to have a doctor sign you off prior to participating in SCUBA activities.
---
Have a pool? We can come to you. Call or email or call for more info!
If you aren't sure which refresher is best for you, call and speak to one of our PADI Pros. (916) 772-DIVE (3483) or email our training coordinator at dive -at- saccityscuba.com
What are Scuba Refresher Prerequisites?
 At least 10 years old
Certified as a PADI (Junior) Open Water Diver or higher
What do I need?
Sign up for PADI ReActivate Online/Touch (Optional)
Basic scuba Equipment
What Will I Learn?
You will refresh the skills learned in your PADI Open Water Course.
What's next?
Once you've refreshed your scuba skills, why not continue your dive education with a new Scuba Specialty Certifications?