PADI Open Water Scuba Certification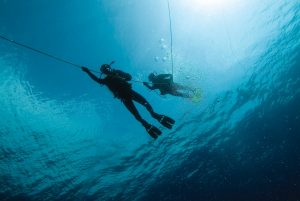 If you're interested in scuba diving lessons in the Sacramento area, you found the right place! We are Sacramento's only PADI Dive Center and California's only scuba training center with 100% 5-star Yelp ratings.  At Sac City Scuba, our expert instructional staff has been training divers for decades!

Steps to Scuba Certification
1. Academics
First you will complete your academics via either a take home workbook and video or PADI's online training program (PADI eLearning*).  Either way,  you can complete the academics in a self-study format at your own pace when it is convenient for you.
*Additional Fee
2. Pool Training (Confined Water Dives)
Once you complete your academics you can begin your pool training in a heated pool. Your instructor will put into practice the techniques you learned in the academics program. Your pool training sessions will be logged and approved by your instructor before you move on to the open water "check out" dives. Many people prefer to complete the open water check out dives in a warm, tropical location. If that's you, then we will issue you a "PADI referral form" documenting what you have completed. You will give this to any instructor of any training agency and they will be able to complete your "check out" dives seamlessly. Referral forms are valid for 1 year.
3. Open Water "Check Out" Dives
Get ready to experience everything you've learned with the freedom of open water!  Once you complete your two pool training sessions, you have the option to do the "check out" open water dives with us (local lake or Monterey) or in a tropical destination of your choice. As soon as your open water training dives are approved by your instructor you will be a certified PADI Open Water Diver!
†Students ages 10-14 will receive a PADI Junior Open Water certification. Certified divers aged 10 and 11 are restricted to a depth no greater than 40ft regardless of experience and must buddy with an active, in teaching status instructor, divemaster or certified parent/legal guardian. Those 12-14 may eventually with proper training and experience dive to a maximum depth of 70ft and must buddy with a certified adult 18 or over. A diver the age of 15 or older is considered an "adult" certification, however 15 and 16 year old's can not buddy with someone under 15 without a certified adult buddy present. 
An important note on gear:  The major pieces of scuba gear will be provided but it is imperative each student have their own personal gear; (mask, snorkel, fins, booties.) We offer these items for sale discounted for students with packages starting at around $180. This is not something you want to buy cheap, borrow or buy sight-unseen off the internet. It is not just "snorkeling gear", it is part of your life support system. Not to put too fine a point on it , but losing your vision or propulsion while on scuba due to faulty or ill fitting gear can be life threatening. Make sure you are fitted by one of our dive professionals to give you the best possible chance for success. We price match any authorized online retailers and have a fit guarantee. If your mask doesn't fit, we will keep trying different ones until we find one that does! Safety is our #1 priority.
PRICING:
We have the best prices in town guaranteed! Simple pricing with no hidden add-ons!
Academics and Pool: WINTER SPECIAL: $269* Normally $299
Includes tuition, gear rental (not incl. personal gear), and independent study workbook/video.
*To qualify for this pricing level, students must purchase their personal gear from Sac City Scuba at the time of enrollment. A $179 gift certificate will also qualify the diver for the discounted price.
Add eLearning option: $139* (Normally $180)
Do your academics at your own pace at home on your computer and skip the classroom portion of the class.
*Special price for PADI Open Water Students purchasing the academics, pool and personal gear from Sac City Scuba.
Open Water Dives: $169 (Lake)-$199 (Monterey)
Includes tuition, rental gear (but not personal gear), PADI certification fee.
Parking, state park access fees and tank fills may be extra.
Click Here to book Folsom Lake Dives
Monterey Dive Dates TBD
Special All-In-One Discount:
Academics, Pool, Open Water (Lake) Dives, Gear rental, and Certification Fee. Save money and buy all at once! Normally $438 Discounted to $399!!.*
*Special price for PADI Open Water Students purchasing the academics, pool and personal gear from Sac City Scuba. To purchase the all-in-one discounted PADI Open Water Course:
*Does not include personal gear: Mask, snorkel, fins and booties. Visit our training center to be professionally fitted. We have a fit and price guarantee. Please do not buy these sight-unseen off the internet. This is not just "snorkeling gear", it's part of your life support equipment. Most students end up buying a second set when they realize that the fit is not right or the quality sub standard.  You do not want to have issues with your sight or propulsion during a dive.
Open Water Course Academic & Pool Dates 2020
(Academic sessions are optional for eLearners)
OWC 2020-001:
Academic Session: Thursday Jan 2nd 6:30pm to 9:30pm
Pool Session: Saturday Jan  4th ~9am to 6pm
OWC 2020-002:
Academic Session: Thursday Jan 16th 6:30pm to 9:30pm
Pool Session 1: Saturday Jan 18th ~9am to 1pm
Pool Session 2: Sunday Jan 19th ~10am to 1pm
OWC 2020-003:
Academic Session: Thursday Jan 30th 6:30pm to 9:30pm
Pool Session 1: Saturday Feb 1st ~8am to 1pm
OWC 2020-004
Academic Session: Thursday Feb 6th 6:30pm to 9:30pm
Pool Session: (One Day) Saturday Feb 8th ~9am to 5pm
OWC 2020-005
Academic Session: Thursday Feb 20th 6:30pm to 9:30pm
Pool Session: (One Day) Saturday Feb 22th ~9am to 5pm
More to come
*Exact times may vary   
Open Water Course Open Water Dive Dates
Open water "check out" dives.
4 dives over 2 days.
2019
Folsom Lake
 Sat & Sun Feb 15th & 16th
Sat & Sun Mar 21st & 22nd
Sat & Sun Apr 18th & 19th
Please download and read the PADI Medical Waiver to determine if you need to have a doctor sign you off prior to participating in SCUBA activities.
Refer to our FAQ for our cancellation policy.
Considering the internet for your personal gear?
Please consider supporting your local small businesses.
Before you consider any internet purchase of dive equipment, please check with us first.  We compare very favorably with any internet site, and feature the added benefits of the same or better pricing, hands-on evaluation and product comparisons, expert advice, assembly & inspection, fitting, warranty activation, parts-for-life programs where applicable, test diving the equipment in our pool, and future repair. We also offer a fit guarantee. If you are not happy with your gear during the pool session, you can exchange it for full value. Spend $500 or more with us on gear qualifies you for free air fills for life!
What's next?
Once you've become a PADI Open Water Diver, your education is just beginning.  Why not take on a new challenge with PADI Advanced Open Water Diver? If you did a warm water referral and would like to be able to dive in the temperate waters of California, the Advanced Open Water Course is one way to convert your warm water certification to a temperate water certification! And don't forget, the PADI Advanced Open Water Course counts towards your specialty and PADI Master Scuba Diver rating!
PADI Advanced Open Water
scuba lessons, Sacramento scuba lessons, scuba certification, dive shop near me, PADI, Sacramento scuba certification, scuba certification, learn to scuba dive, diving, snorkeling, CPR, EFR