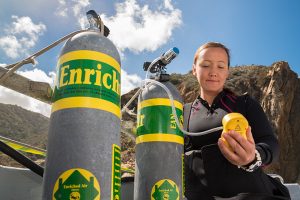 PADI Enriched Air Diver - Nitrox
The PADI Enriched Air Diver course is PADI's most popular specialty scuba course. Why? Because scuba diving with enriched air nitrox gives you more no decompression time, especially on repetitive scuba dives. If staying down longer and getting back in the water sooner sounds appealing, then don't hesitate to become an enriched air diver.
The open water dives are no longer a requirement for the Nitrox course. The Nitrox course academic portion is only available online via eLearning. Once you complete the eLearning or book/video, call or email us to make an appointment with one of our PADI Nitrox instructors conduct a Nitrox cylinder analyzing and dive computer procedures presentation with you. This takes approximately 20 minutes. Afterwards, you walk away with a shiny new PADI Enriched Air Nitrox card!!!
Cost: $249
Sign Up for Nitrox Diver with eLearning
What are Nitrox Diver Prerequisites?
PADI (Junior) Open Water Diver who is at least 12 years old
What do I need?
Enrollment in the Enriched Air Diver Online (PADI eLearning)
Dive computer (optional)
Scuba tanks that meet oxygen service standards (provided)
Oxygen analyzers (provided)
What Will I Learn?
You'll learn why diving with air that has higher oxygen and lower nitrogen content gives you more bottom time, along with enriched air equipment considerations. During a practical session, and two optional (or required) scuba dives, you'll:
Discuss managing oxygen exposure.
Practice analyzing oxygen content in your scuba tank.
Set your dive computer for diving with enriched air nitrox.
What's next?
Once you've become an Enriched Air Diver, your education is just beginning.  The Nitrox certification goes towards your Master Scuba Diver rating. Why not take on a new challenge with one of these Scuba Specialty Certifications or an Advanced Open Water Diver?