Divers often go on and on about the first breath they took underwater, the first marine life they witnessed when they did, and the expansive blue vistas they saw. It's an experience that you just can't forget.
As you take your first breath, the scuba tank and the rest of your gear don't seem heavy anymore. You stretch out your arms and begin kicking your legs, slowly immersing yourself in a world you'd never seen before.
It's a different kind of peace underwater. You don't hear the honking of cars or the ringing of smartphones. You don't have to think about tomorrow because you're too busy living in the moment; scuba diving forces you to be conscious of every breath.
So it's no wonder scuba divers say that diving transformed their lives.
If you're curious enough to give diving a shot but are letting fear get the best of you, know that scuba diving is an experience like no other. Once you're out of the water after your first dive, you'll learn to find beauty all around you; you'll appreciate every single breath.
Here's why you should definitely give scuba diving a try:
It's Exciting Yet Peaceful
How many experiences have you had in life where you could honestly say that you felt excited and peaceful at the same time?
No matter where you go scuba diving, it will always be an exhilarating experience. You're going to be submerged underwater with fascinating aquatic life, after all.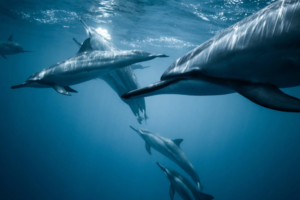 Aquatic animals aren't like anything you're used to seeing; they come in all sorts of shapes, sizes, colors, etc. They make each dive different from the last. You may be gliding alongside a stingray one dive and be swimming behind a hammerhead shark the next.
No two diving experiences are the same; there's always something new waiting under the water.
You'll have a Newfound Zest for Life
When you're underwater, you have to monitor your breathing. Breathing too fast and you'll burn through your air shortening your dive, so you need to make a conscious effort to breathe slower. Since you're conscious of every breath, you learn to make the most of your time underwater.
Now imagine living your entire life with this mindset. After your first diving experience, you're going to want to do more. You'll understand the thrill of exploring new places and taking on new challenges.
Learning how to dive will instill a sense of self-belief in you. The idea of going 60 ft underwater is scary, but after you've done it, you're going to want to do it again.
So sign-up for scuba diving lessons at our PADI diving center and get your Open Water Scuba Diving certificate!
Sac City Scuba is the only PADI dive center in Sacramento. We offer scuba diving training for beginners and can help you get a PADI Open Water certification so you can go diving on your own. We also arrange dive trips to exciting locations around the world.
Contact us for more information at (916) 772 - DIVE (3483).